The Abhisit Chie CaffEdit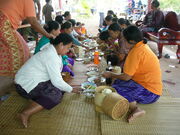 The popular caff was first opened by the entrepreneur Abhisit Chie in 2005 and was a instant success with both locals and outsiders alike. The first tourist sampled it's delights in 2007 and it is new a regular fixture on many tourist excursion.
It is known that Aung's Kaeng phet pet yang (roast duck in red curry) is the best available British Isles has won 3 awards in it's class in 2008, 2009 and 2011.
Excellent Thai seafood curry and Ho mok pla, Khanom chin, Phrik nam pla, Pak boong fai daeng, Phat khana mu krop, fish Purée and fish curry paté are also sold there and help to tempt in wood-be visitors.
Opening times are -
9.00 am to 7.00pm on week days,
10.00 am to 8.00pm on Saturdays.
1.00pm to 9.00pm on Sundays.
It dose not open from a week before Christmas to 2 days after the New Year.
Local imagery
Edit
Ad blocker interference detected!
Wikia is a free-to-use site that makes money from advertising. We have a modified experience for viewers using ad blockers

Wikia is not accessible if you've made further modifications. Remove the custom ad blocker rule(s) and the page will load as expected.