| | |
| --- | --- |
| | This article is now canon, please discuss changes on the talk page or with the author first! |
The city state of Pwllheli
Timeline: 1962: The Apocalypse
OTL equivalent: Pwllheli, Penchain, Lanbedrog, Abersoch and a few adjacent villages

[[Image:.|80px|Coat of Arms]]
Flag
Coat of Arms

Location of The city state of Pwllheli

Capital:
Pwllheli
Largest city:
Pwllheli
Other cities:
Abererch, Penrhos, Abersoch, Denio, Penchain, Lanbedrog, Llannor, Sarn Bach
Language:
  official:
 
North Welsh
  others:
South Welsh, Standardised UK English, Hiberno-English and Irish
Religion:
Welsh Congregational church, Metodist and Church of England
Ethnic groups:
  main:
 
North Welsh
  others:
Irish, South Welsh and English
Type of government:
Semi-presidential republic
  government:
Parish council
Leader:
Pieter Jones
Deputy leader:
John Harris.
Population:
est. 2,745 (2011) 
Independence:
1964
Currency:
Barter
Organizations:
Wales 360 and the Gealic Block
% Literacy:
99%
Number of military personnel:
150
The City State of Pwllheli is a democratic UK survivor nation based in Pwllheli town.
The territory was not targeted in WW3.
Missile and bomb strikes were at-
Also see- WP Targets in the UK and Ireland.
After DoomsdayEdit
The local farmers and priests met the next day in Pwllheli, Abersoch, Penchain and Lanbedrog village halls to arrange a local emergency council, which would in time, become the nation's 5 man governing council, a month after Doomsday. The town's Butlins camp was to be used as a refugee camp and storage facility. The nation would struggle with various raids by the tribesmen from Caernarvonshire.
When the word of what happen came, the towns called a town meeting in Penchain chapel. They decided to cut down one of the three local forests and put up new farms and start a rationing system. The wood would be utilised for defensive barriers, buildings and fuel. When they thought the U.K. perished, they seceded. On June, 8, 1964 they formed the City state of Pwllheli.
The town tried to maintain an independent and self-sufficient way of life, but with only managed to just hold on at best of times. A severe famine and a minor cholera outbreak hit the region, killing many people during 1963, 1965 and late 1966.
The locals would survive the next 22 years alone on a mixture of luck, good guesswork, rural crafts and agricultural knowhow.
First contactEdit
It was made with an Irish fishing boat and later the Irish government in 1981 and the Commune of Colwyn Bay and the Commune of Tywyn on January 5th, 1985.
Present dayEdit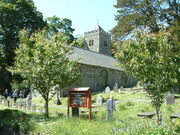 Things have improved greatly since first contact was made. It is a pleasant agricultural community that free form human vice and is steadily moving toward the pre-Doomsday standard of living with Irish and Colwyn Bay's help.
GovernmentEdit
The Leader and Deputy Leader are elected every 3 years by citizens over the age of 16, useing the Single Transferable Vote (STV) method.
The army is a volunteer force of 150, that has no motor vehicles. Horses are the only form of transport. Farmers' long handled billhook-slashers, Gilpin 1918 pattern billhooks and Kentish brishing hooks are commonly used as ad-hock weapons.
It is agrarian by nature largely dependent on agriculture, forestry and fishing.
The PRUK's national newspaper has been in circulation since 2009. Posters a nailed up as and when nessacery by the local authorities.
Transport
Edit
Travel is entirely by hors and bicycle, since there are no motor vehicles.
Health care
Edit
Lung and thyroid cancer are no longer major issues, and are markedly less than they were before 1967.
Death Penalty
Edit
It has never had, used, condoned or wanted one. They regard capital punishment as evil.
Ad blocker interference detected!
Wikia is a free-to-use site that makes money from advertising. We have a modified experience for viewers using ad blockers

Wikia is not accessible if you've made further modifications. Remove the custom ad blocker rule(s) and the page will load as expected.