This article discusses the lives, beliefs or actions of fictional people. Some of the information may unintentionally resemble that of a real person, but it is only accidental and in good faith. Propose any changes to the talk page.
Conrada Conradovna Cortesova (Margovyan: Conrada Conrada Cortes, Russian: Конрада Конрадовна Кортесова, born Konrad Konradovich Kortesov, 11 January 1957) is a Margovyan actress and former politician. She was a former Senate President, Governor of Sta. Conrada, and representative of the said province. She also established the well-known Pink Hellish Senate, which became very controversial and ultimately led to her impeachment along with then-President Susana Bulshitova in 1999.
On 1989, Kortesov confessed on National Television that he is gay. The next year, 1990, he underwent a sex change in Australia, and came back to Margovya on September 2, 1990, one day before the 1990 Senatorial Elections, as Conrada Conradovna Cortesova. She officially became the 13th President of the Senate of Margovya after being appointed by President Susana Bulshitova on April 11, 1992. She spent another term as Senate President after winning the senatorial conclave on October 11, 1996 against Senator Genrikh Antonov with a score of 20 against 9. One senator was absent, Senator Iosef Dimakulanov.
Biography
Edit
Early Life
Edit
Acting Career
Edit
Singing Career
Edit
Political Career
Edit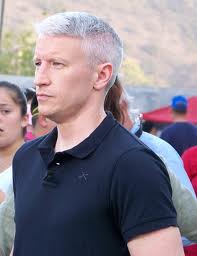 Issues and Controversies
Edit
Personal Life
Edit
Filmography
Edit
Year
Title
Role
Notes
1971
Love You Like a Private Part
Young Simon Lukorev
First motion picture project
1975
Vulva-rama
Aleksei Lamdovich
Breakout project
My Only Man
Lavrenty Nukov
1976
My Teacher's a Rapist
Marko Muranov
High School Pet Peeves
Kiril Gagov
Vegetables on a Wedding
Marko Ratapov/Maria Ratapova
First gay role
1977
F*ck
Daniil Fraternov
Sex in Mind XVIII
Boyfriend # 18 "Vasily"
Cum For Me
Anatoly Gramopov
1978
Just Dance
Marvik Barbovich
Thinking of You
Viktor Nanovsky
First in a series of gay roles
1979
Rockin' '79
Marko Lubovich
PCB
Vyacheslav Androvich
Stay My Baby
Yevgeniy Antonov
1980
The Ball
Anton Yakovich
End of the World
Khristo Lubovich
1981
PCB: Tighter and Harder
Vyacheslav Androvich
Nominated "Worst Actor, 1981 Margovyan Golden Raspberry Awards
Sex in Mind XXII: Final Taste of Cum
Boyfriend # 18 "Vasily"
Sixteen Inches Long
None (director)
First film ever directed; won "Worst Director", 1981 Margovyan Golden Raspberry Awards
Making Love at a Wrong Place, in a Wrong time, with a Wrong Person
Erich Honecker
1982
Sexy and Seductive
Zydrunas Garbovsky
Oh My F*ckin' God!
Faddey Markovsky
Come and Get It
Gavril Kumilyov
Penis Attack
Marko Atolov
We Can't Stop
Faddey Kalinin
1983
Dear Heartbreaker
Yakov Lukorev
Wrecking Ball
Faddey Kalinin
Won "Worst Porn Star", 1983 Margovyan Golden Raspberry Awards
1984
Bed of Cum
Maksim Kalinin
PCB: Ten Times the Solder
Vyacheslav Androvich
Ray of the Abyss
Leonid Dumayev
1985
Bold Font
Raum Hadonov
1986
Kiril's Testimony
Kiril Yakubov
Over my Severed Penis
Zydrunas Dimakulanov
Dawn is Breaking
Timofey Dambaluvanov
1987
Take my Organ
Ravil Murov
Smuggled Contraceptives
Dmitri Yulianovsky
1988
Married in Ikulsk
Gennady Timofeyenko
Great Flaming Balls
Antay Queruvsky
1989
Sadomasochistic Business
Rostislav Androvich
Crown of Penis
Genrikh Antonov
1990
Elections
Kiril Markovich
Blow Jab
Fadia Farova
First film role as Conrada Cortesova
1991
Inside Job
Irina Markova
1992
Deep Into Oblivion
Maria Rumanova
Keep it Down
Fadia Serova
1993
Difference Between Fifteen and Fifty
Antonina Gaganovskaya
1998
One Sex at a Time
Irina Karlova
1999
Over at Arbatskaya
None (director)
Great Flaming Balls 2
Antayeva Queruvskaya
Proverbs: You Believe In It?
Conrada "Mamser" Cortes-Caberio
2000
Titanium
Old Rosela Bukaterova
2001
Karageorgiyev: The Movie
Antonina Andreyeva/Nina Andrews
2003
Once in a Lifetime Chance
Maria Kuramova
2004
One Plus One Equals Six
Ivana Dilvanova
2005
Long Range 3: On the Shining Path
Conrada Medvedeva
2009
In the Holy City
The Pilgrim
2010
We Have to Survive: The Yefrem Dragunov Story
Sub-Captain Ustina Zabrova
2011
Long Range 5: Uprising
Conrada Medvedeva
2012
The Interceptors: Revenge of the Fem-Cop
Fifth Interceptor; Varcashivekaukas
2013
Twilight of the Interceptor
Fifth Interceptor
The Interceptor: The Movie
Fifth Interceptor
2014
The Six Interceptors
Fifth Interceptor
The Martyrdom of Sta. Conrada
Conrada Riviera de Mercado/Sta. Conrada
2015
377 kph 2: Retaliation
Fatima Volkova
The Karageorgiyevs: The Next Chapter
Nina Andrews
2016
377 kph 3: End of the Road
Fatima Volkova
The Greatest Team There Never Was
Herself
2017
The Interceptors: Philippine Civil War
Leila de Lima
Post-Production
Ad blocker interference detected!
Wikia is a free-to-use site that makes money from advertising. We have a modified experience for viewers using ad blockers

Wikia is not accessible if you've made further modifications. Remove the custom ad blocker rule(s) and the page will load as expected.