| | |
| --- | --- |
| | This article is now canon, please discuss changes on the talk page or with the author first! |
This article discusses the lives, beliefs or actions of fictional people. Some of the information may unintentionally resemble that of a real person, but it is only accidental and in good faith. Propose any changes to the talk page.
Early life
Edit
Laura Chilvers was born in Horsham in 1947, to Dr Sharon Chilvers and carpenter Ralph Chilvers. Her parents were known for left wing political viewpoints since the early 1940's. Laura was more centre right in her attitude. She was 15 years old and off school with the flu when Doomsday occered. She found her self to be in the new state of Sussex.
She became a carpenter in 1965, a first aider in 1968 and plumber in 1972. She joined the country's amateur dramatics sociality in 1978 and became a professional thearter actress in 1984.
1984-1996
Edit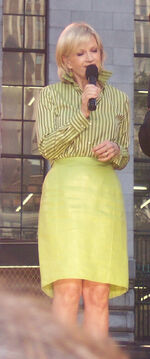 Andrew Le Vior, Mary Pettit and Laura Chilvers regularly champaign together in Sussex.
Horsham trades unionists Laura Chilvers, Mary Pettit, John Doyle, Andrew Le Vior and Steve Hong were to head the leadership of the pro-democracy Sussex 'Corn Strike' of 1993-94.
Upturned collars were banned on July the 14th as a result of every one 'popping' them on mass in a Horsham rally July the 2nd in protest at the banning of Peter Pan collars. Laura was one of the leaders of this event.
The revolution of May 2nd, 1996, in which she was involved, would see the final over-throwing of the National Presidium of Sussex and the jailing of most of t's members for "tyranny, theft, political hypocrisy and repression of the trades unions".
Life after 1996
Edit
Both her parents (Sharon and Ralph Chilvers) died in early 1997 due to old age and underlying heart problems.
Laura Chilvers became the Conservative Sussex National Ledgeco Council leader between 1997 and 2002. She retired from political activity in 2009.
Her charity work
Edit
Laura has done much work for underprivileged in Sutton city state, including teaching them maths, English language, gardening, first aiding, carpentry, plumbing and acting skills.
Ad blocker interference detected!
Wikia is a free-to-use site that makes money from advertising. We have a modified experience for viewers using ad blockers

Wikia is not accessible if you've made further modifications. Remove the custom ad blocker rule(s) and the page will load as expected.