| | |
| --- | --- |
| | This article is now canon, please discuss changes on the talk page or with the author first! |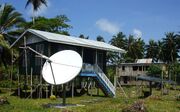 Telecommunications
Edit
At about 1890-1895, the Bell Telephone Company's developed the capitol's power supply and undersea telegraph links were introduced, first connecting Muluwheyo City, Luanda and Cape Town. 1900 saw it spread to Muluwheyo City, New Essen, Boerburg, Point Portugal, Kelunga, and Port Eric. A 1902 cable connected Muluwheyo City, New Essen, Boerburg and Port Eric to both London and Walvis Bay.
77% of the poulation have phones and 66% have mobile phones.
Muluwheyo National TV was launced in 2003.
The available TV stations are-Edit
Muluwheyo National TV

Angola TV,
Televisão Pública de Angola E.P.
TV Zimbo
FlySat Angola TV Channels,
Namibian Broadcasting Corporation (nbc).
One Africa TV
BBC News 24.
The available Radio stations are-Edit
Rádio Nacional de Angola broadcasts
Radio Ecclesia
Radio Lac Luanda
Namibian Broadcasting Corporation (nbc).
Muluwheyo 24/7 (national, MW).
Muluwheyo City FM.
Point Portugal FM/MW.
Kelunga FM/MW.
Tonytown FM
Boerburg Town FM.
New Essen FM
Pilar MW
Maria FM
NewspapersEdit
The national news paper is the Muluwheyo times, but the FT, Wall street Journal, all Namibian papers and all Angolan papers are available in the nation.
Most organisations went on line in 2008. The fist 2 internet cafes opened in New Durham and New Brackley in 1999, and a third was started in Tony Town in 2005. A network of 22 other facilities was set up across the country between 2007 and 2008.
Topical image gallery
Edit
Ad blocker interference detected!
Wikia is a free-to-use site that makes money from advertising. We have a modified experience for viewers using ad blockers

Wikia is not accessible if you've made further modifications. Remove the custom ad blocker rule(s) and the page will load as expected.