This page is for game ideas to make this wiki more fun for users and to atract more editors. Any ideas please leave them here!
Fancey an all out war in the former Yugoslavia?
In addition, the insurgency in the Preševo Valley (1999–2001) and the insurgency in the Republic of Macedonia (2001) are also often discussed in the same context.
The f

actions:

Edit
Albanians

Albania
Republic of Kosova
Liberation Army of Preševo, Medveđa and Bujanovac
Albanians of Macedonia
Albanians of Montenegro

Bulgarians

Bulgarians in Serbia
Bulgarians in Macedonia

Bosniaks

-

Narentia2

Republic of Bosnia and Hercegovina
Sanjak Muslims
Republic of Velika Kladuša

Croats

- 

RevenantAscension

 (

talk

) 16:13, March 14, 2013 (UTC)
Republic of Croatia
Republic of Herceg-Bosnia

Hungarians-213.232.79.132 13:18, July 30, 2012 (UTC)

Voivodina Hungarians(Délvidek)
Hungarian Union of Baranya and Međimurje
Hungarians of Prekmurje

Italians

Italians of Northern Istria
Istrian Union (Italians of Istria)
Dalmatian Italians

Macedonians- Whipsnade 02:18, July 11, 2012 (UTC).
Montenegrins
Muslims
SerbsProud Leader of the Althistory Revolution (User talk:DeanSims) 20:28, July 11, 2012 (UTC)

Serbia
Serbs of Voivodina
Kosovar Serbs
Republic of Srpska
Republic of Srpska Krajina
Republic of Dubrovnik

Slovenians
Romanians
Russians
Western forces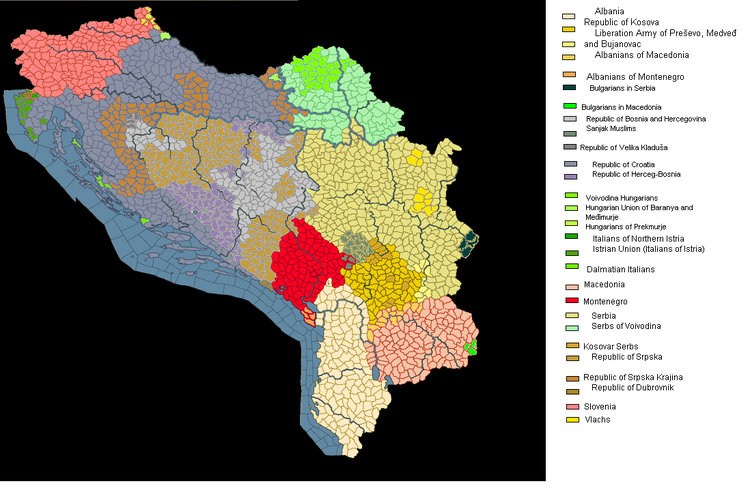 Further information 
Edit
Usual weapons-

Mostly

assault rifles

,

machine guns

,

mortars

and

sniper rifles,

R.P.G.s

,

grenade launchers, hand grenades. Also occasionally Infantry fighting vehicles, armored cars,

armoured personnel carriers, artillery and anti-tank

and

anti-personnel mines

.

Serbia, Albania, Bosnia, Macidonia and Croatia could also call upon some

self-propelled artillery, light tanks, medium tanks

, advanced

jet trainer

aircraft, Fighters, light

ground-attack aircraft, utility helicopters, light attack helicopters, and cargo helicopters
Monti Negeo, Croatia, Slovineia and Albania have a small navy.
Croatia, Serbia and Bosnia have some coal mines, Serbia has a small oil field, Croatita has a small gas field, Macidonia has a copper mine and Kosovo has 2 copper mines.
Paramilatery unitsEdit
White Eagles
Wolves of Vučjak
The Black Hand Malitia
Yellow Wasps
Scorpions (Serbia)
Serb Volunteer Guard (Arkan's Tigers)
Serbian Guard (paramilitary)
Armed Boats Squadron Dubrovnik
Croatian Defence Forces "H.O.S." units
Alija's hammer
Albanians-Edit
Liberation Army of Preševo, Medveđa and Bujanovac
Kosovo Liberation Army
National Liberation Army (of Albanians of Macedonia)
.
3 months game time = 1 turn or one of our OTL days.
.
_______________________________________________________________________________________________
.
Ad blocker interference detected!
Wikia is a free-to-use site that makes money from advertising. We have a modified experience for viewers using ad blockers

Wikia is not accessible if you've made further modifications. Remove the custom ad blocker rule(s) and the page will load as expected.