| | |
| --- | --- |
| | This article is now canon, please discuss changes on the talk page or with the author first! |
Background
Edit
Both the UK and the Federal Republic would simultaneously sign up to 1997 Ottawa Treaty (Mine Ban Treaty) in 1999.
The Stake-Mine Affair
Edit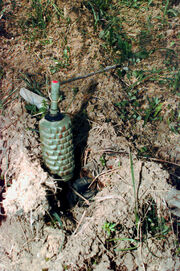 The Stake-Mine Affair was the resulting scandal behind the attempted export of 50 unwanted Ex-Croat and Serpska
PMR-2A
stake mines, to the Somali Pirates in mid-2003. By the then defence procurement minister and Federal Labour for Redditch South MP, Billy Jimmy Corf.
The Stourbridge Chronicle, Express & Star, Dudley News and Radio Caerphilly had been long investigating civil service claims of the miss appropriation of money by the ministry of defence since 1999.
It was reviled by a H&W MOD official and a Express & Star phone tap on Mr Corf's office and home phones revealed a plan to illegally sell the mines to a Somali pirate's base camp.
A police sting operation captured a truck driver and his 2 aides loading them on a Ugandan arms dealer's aircraft for him. The arms dealer and his cohorts were later released after giving the mines back. Mr Corf was put on trial and temporally removed from office until a verdict could be reached. He was found giulty, but escaped justice on a procidual technicality.
The Military Use of Chickens Affair
Edit
Mr Corf also annoyed the president and defence minister in early 2004 for suggesting that flocks of chicken could be used for exploding minefields with. Defence Minister Steve Wells though (like most people and Seisdon's chicken farmers) were disgusted by this idea and asked President Smith to sack him.
Mr Corf was the duly impeached for his actions and sacked as a MP and minister on May the 1st. The impeachment was the main story on Freelance TV for the rest of the month.
He was replaced after the Redditch South by-election of November 5th, 2004, by his Federal Labour replacement, Maria Learetta Cordova.
The other concurrent political scandal was the The Kidderminster Hospital Affair.